Unit4, is recruiting professionals with team management skills within the finance department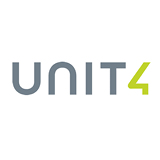 Your new company
Unit4 is the leader in enterprise software for people-centric service firms, designed to transform the way people work.
Their cloud-based enterprise software - ERP, HCM, FP&A - help their customers in delivering an exceptional People Experience to their customers – from boosting success for students and professionals, to empowering the public servants and non-profit teams doing good in the world.
Your new role
We are looking for a results-driven and confident Financial Controller, to manage and improve our organization's financial performance and direct our accounting operations.
Reporting to the Financial Controller Team Leader, the duties for the Financial Controller will include managing accounting records, evaluating and managing risk, ensuring compliance with regulations, publishing financial statements, overseeing accounting operations, analysing financial data, monitoring expenditure, forecasting revenue, coordinating auditing processes, and ensuring accuracy of financial information.
Your planning and exceptional numerical proficiency as a Financial Controller will aid our organization in maintaining positive revenue and financial growth, providing input for financial strategies and financial plans that support organizational strategy, ensuring adherence to internal controls and achieving financial targets.
The ideal candidate should possess strong analytical skills, problem solving skills and be highly organized. The noteworthy Financial Controller should support streamlining our accounting functions and operations, provide financial analysis and reports, train staff on business finance issues, promote regulatory compliance, and monitor income generation.
What you need to be successful

• Preparing financial reports.
• Analysing financial data.
• Monitoring internal controls.
• Overseeing and preparing income statements.
• Participating in budgeting processes.
• Managing financial transactions.
• Streamlining financial control functions and operations.
• Providing input for plans for financial growth.
• Evaluating and managing risk.
The ideal candidate has a

• Master's Degree in Accounting or equivalent
• Proven Multi GAAP accounting and reporting experience
• A minimum of years of experience within the Financial Control domain
• Sound knowledge of accounting fundamentals
• Auditing experience
• Compliance oriented
• Proficiency in accounting software
What the company can offer you
A chance to participate in the development of an international leading software firm. At Unit4, you have the freedom and autonomy to be successful. An attractive salary while working in a challenging international environment. Enthusiastic colleagues who like to learn from each other. At Unit4 we invest in your personal and professional growth. We don't focus on how many days you work, we trust you on delivering results - thus, we have an unlimited vacation policy.


Next steps
In case you are interested in this opportunity, click on "Apply Now" to send us your updated CV.

#1023474